In Quincy, our community prides itself on hospitality, and we believe there is no better example of our warmth than how we treat our exhibiting artists. We try to think of everything: assistance unloading, water delivered to your booth, free coffee and treats in the morning, booth sitters for meal and bathroom breaks. Our volunteers bend over backwards to make you feel welcome and comfortable. Beyond this kindness, we work tirelessly to promote the Festival in the Quincy region and beyond to bring in a large crowd to purchase your art. We fund raise constantly to grow our awards and increase the amount of Art Fare ($) in people's hands. We just know you will love our Festival as much as we do.
3 DAYS | FRIDAY-SUNDAY
FINE & FRESH ART SHOW
50+ ARTISTS
7,000 EST. ATTENDANCE
$5000 IN AWARDS
$7500 IN ART FARE DOLLARS*
$586,000 ECONOMIC IMPACT
*Sponsored & sold in advance of the weekend to use for purchases of artwork at Q-FEST.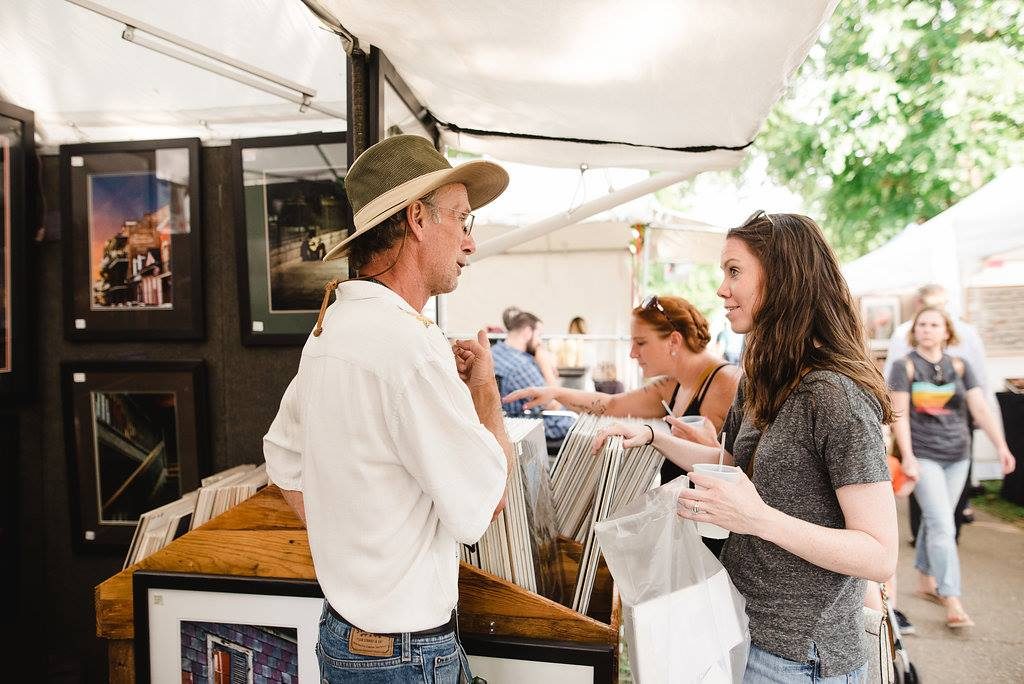 Q-Fest Fine & Fresh art show is located in a beautiful shady park in the heart of our vibrant downtown. Easy access and flow to and within the park directs patrons into the 50+ artists booths comfortably situated within generous 10'x10′ spaces. Complementing the sale of fine art is free hands-on art activities, a local food court, entertainment, including very popular Blues in the District concert on Friday night and District Street Dance Saturday evening.
The Fine & Fresh art exhibition and sale includes artists chosen by a five-member panel of jurors including arts professionals. Many of our artists have so enjoyed the atmosphere, community, volunteers and sales that a mix of new and returning artists continue to apply each year. Artist exit surveys each year praise our volunteers for the excellent service and hospitality provided to our artists.
FOR THE ARTISTS:
Over $5000 in awards including $1000 Best of Show Purchase Award
Over $7500 in Art Fare sponsored and sold to purchase art work during Q-Fest
$20 Application Fee, $100 Booth Fee
Convenient, drive-up set up/tear down
Above & Beyond Hospitality including water service, booth sitting & more!
FREE reserved parking & electricity
Extensive multimedia marketing & public relations efforts including website, print, tv, radio & more!
Q-FEST is pleased to have Erin Buczynski as its 2019 on-site awards judge. Buczynski is the Director of Galleries, Exhibitions and Collections at Bradley University in Peoria, IL and an affiliate faculty member in the Department of Art and Design.  Prior to joining Bradley University, she served as Program Director at Prairie Center of the Arts, an artist residency program and gallery. 
She received her Master of Fine Arts from Rochester Institute of Technology, Bachelor of Fine Arts from Alfred University, and additionally studied at Lorenzo de' Medici, The Art Institute of Florence, Italy.  Buczynski is a member of the class of 2012 Peoria 40 leaders under 40 and an active exhibiting artist who works in mediums of sculpture, painting, mixed media, glass, and installation art.
The 2019 artist application deadline has passed. Our 2020 application will be available in early November.  
Email us to get the latest artists news and updates from Q-FEST.
Purchase Awards:
Hansen-Spear Funeral Home Award – Ann Miller Titus (fiber)
Quincy Artists' Guild Young Collectors Gallery Awards:
3rd Place – Stan Squires (painting)
2nd Place – Kenyatta Ray (photography)
1st Place – Joseph Jostes & Susan Skinner (clay)
Great River Watercolor Society Award
Merit Awards (4)
Joseph Jostes & Susan Skinner (clay)
Chester Stogner (wood)
Ann Miller Titus (fiber)
April Tate (fiber)
Achievement in Art Awards (3)
Jimmy Liu (clay)
Terry "Buddy" Shaw (wood)
Tim Hall (wood)
Awards of Excellence (2)
Peggy Burchard-Ballard (mixed media)
Rocky Pardo (jewelry)
Father Tom Brown Award
Tim Schroll (photography)
Pat Surface Founders Award
Melanie Mollman Hancock (glass)
Best of Show Purchase Award
Chris Plummer "Pool" (printmaking)